SHC co-founders Andrew Everingham and Peter Durie pay tribute to all our great volunteers in this short video
Food is an essential part of Sydney Homeless Connect, and this year's guests will be treated to a gourmet high tea to celebrate the tenth anniversary of the event.
It's a busy day ahead for the 70 catering volunteers and catering leader Audrey Wynn, who has been putting the food offering together since the second year.
The team ensure that each guest receives engaging service as well as healthy food in the 500-seat fine-dining restaurant set up in the main Town Hall or in the informal café on Sydney Terrace.
The service starts even before the doors open, with each guest offered a bacon and egg roll on arrival outside.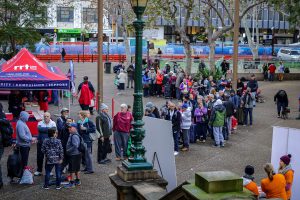 Audrey and her team meet for the first time in the morning. Through teamwork and sheer force of will they prepare and serve more than 3000 meals and 5000 espresso coffees during the day.
"We work out who can do what and separate into teams. Some people help with food preparation and others help with the service. Not everyone has experience, but we work together with one focus in mind, which is to ensure that our guests enjoy the day.
"It is daunting and it is a challenge. I get very nervous about four weeks out, but it all comes together."
Audrey chooses different themes every year and starts sourcing ingredient donations months ahead. Regardless of the effort she puts into the menu, she knows a firm favourite is likely to be the hot baked potato in a new pair of socks guests can take away with them for a warm evening meal.
This year, the wait staff will plate up a spread of finger sandwiches, quiches and mini-pies in front of each guest. These will be followed by a selection of desserts and cakes delivered to the table.
But there's always a treat in store for Audrey as well. "I love it when people say they come to Sydney Homeless Connect because of the food. I get a buzz out of that," she says.
DON'T BE LATE FOR A VERY IMPORTANT DATE!
There are a lot of volunteers.  To make your arrival as seamless as possible, start times are staggered for each team.  Read over the emails you have received to familiarise yourself with where you need to be at what time.  If you're feeling lost or need help, the core team members are the people wearing black hats and headsets.  Plan ahead.  Be on time.
GUESTS DON'T RSVP
It is estimated that on any given night, one in 200 Australians are homeless. We know that more than 3,000 guests are likely to arrive at the Town Hall, but there could be more.
IS THAT ALL YOU'RE WEARING?
Sydney Homeless Connect (SHC) supplies T-shirts for you on the day, but keep in mind it's pretty cold. Wear something warm underneath and comfortable shoes are a must. Oh, and that T-shirt:  we will need it back before you go.
YOU DO YOU
Some people hesitate to volunteer because they think they are missing some special skill.  Not true.  You don't have to specialise in anything to be a volunteer, you just have to be a kind and caring human. All you need is the capacity to have a conversation with someone, an open mind, a willingness to accept people as they are and a willingness to roll up your sleeves.
I'M OK, ARE YOU OK?
SHC is a big day.  You may see or hear things that are a bit overwhelming. Some people may feel unsettled, and that's totally ok.  If you find yourself struggling at all, definitely talk about it. We always ask teams to look out for each other and to get help from their volunteer managers if it all becomes too much.   And if you need a break at any point, just let someone know before you go.
BE YOURSELF
When it comes to talking to guests, there is no set list of what to say and what not to say. Be yourself.  Be kind.  Be compassionate. Be helpful.  Listening is the best way to know what our guests may need.
IT'S SAFE
You don't need to be concerned about safety. Town Hall Security and Patron Control Volunteers manage the crowds, and anyone wearing a headset and a black hat will be able to assist in any way.  Police and ambulance staff are close by as well, so we've got you covered. The volunteer bag check is located at check-in.  We keep an eye on it all day, but we do suggest you leave anything really valuable at home.
BUT FIRST, LET ME TAKE A SELFIE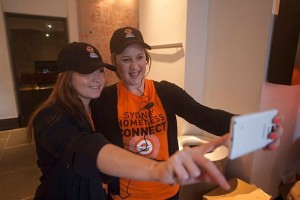 We are very happy for volunteers to take photos of themselves with their team and spread the love. But no pics of our guests please. They value their privacy.
MAKE CONNECTIONS
Volunteers are a diverse group of people.  You will find yourself working alongside people from all walks of life.  Some have done this before, some haven't.  Some first attended as guests of SHC and now give back by volunteering.  What we all share is our desire to make this happen.  So, don't be afraid to introduce yourself.  You may be surprised by the new connections you make.
HUGS FOR EVERYONE!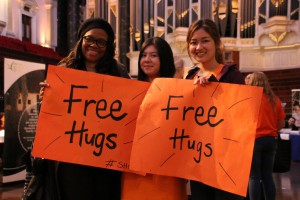 Hugs are awesome.  People love hugs. There are even scientific papers written about how good they are! SHC has a dedicated group of volunteers who give out free hugs every year.  In fact, some of them have been volunteering specifically as huggers for years.  Feel free to give and receive hugs at SHC if they are offered.  But always be respectful of our guests' boundaries.
ONWARDS AND UPWARDS
Doors open at 10am and close at 3pm sharp.  We know it can be hard to go home to a warm bed when others aren't so fortunate.  Try to focus on the positive outcomes that happen on the day and how small steps are helping.
WE ARE FAMILY
Everyone participates in SHC for their own reasons. Sometimes it's good just to do something good. Over the past 10 years, SHC has grown into a community of guests and volunteers who see each other as family.  Welcome to the family!
I'LL BE BACK
It's common to walk away from SHC feeling like we aren't doing enough; that we as a country need to be doing much bigger things to solve the problem. But there are plenty of ways you can help outside of SHC.  If you would like to do more, try contacting the Wayside Chapel or Volunteering NSW to see if you can help out.  And keep an eye on the SHC Facebook page and website!
364 DAYS TO GO
Registration for SHC 2020 opens in mid-May.  We'd love to see you again next year.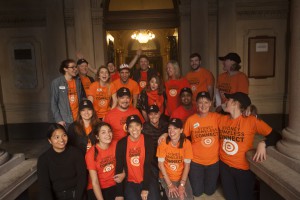 Brett McKinnon has been a hairdresser for over 30 years, but it took just seven hours of volunteering at Sydney Homeless Connect (SHC) for him to realise how profoundly empowering a haircut can be, for both the person giving the cut and the person receiving it.
Brett and the team at his Paddington salon have been volunteering at SHC for seven years, and he says it is the best team-building they do.
"Volunteering is part of who I am," he says.
Over the years, Brett has noticed that haircuts have become increasingly popular among the guests at SHC. And he will never forget the feeling last year when one of the organisers gave him a heads-up that the haircut queue was 100-people long.
This year there will be 26 hairdressers taking part, but there is always room for more, he says. "I've brought in a lot of my friends and they have colleagues that come in. There are some students as well."
Brett's commitment to community has inspired some of his clients to become involved as well.  They help wherever they can at SHC, from the cloak room to catering.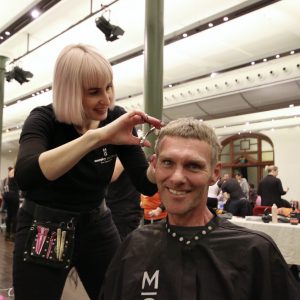 There is no real difference between the way the hairdressers engage with clients at the salon and the guests at SHC.
As each guest arrives, their hairdresser asks them about their style preferences and builds connection, he says.
"There will be people at SHC who will have their phones, they'll have pictures of a favourite haircut, or it could be a picture of a celebrity. It's no different to being in the salon."
But there are ways the guests SHC are different. Their time in the chair is precious, but just sitting down can take courage. "A lot of guests have had negative experiences or mental illness and you know it's difficult for them to connect," he says.
After seven years, Brett has his regulars. "I've been doing it for so long now they'll request me.  The sad part about that is that it's 12 months since I've seen them and nothing has changed, and that's heartbreaking."
However, the simple act of getting a haircut is one way the guests can exercise control in their life. It goes beyond their hair, says Brett. "It's about making them feel good, having someone touch them positively and having a conversation."
For anyone who has thought about volunteering, Brett says: "Just do it.  It's incredible". And it doesn't have to be at SHC, there are many opportunities every week of the year.
"We've been lucky and we want to share that luck," says Brett.
ACKNOWLEDGE: Let go of preconceptions, judgments and bias. The next time you pass a homeless person, greet them with a smile and connect.
TEACH: If you know how, offer to teach a weekly workshop and share your knowledge.
DONATE USED CLOTHING: Go through your closet and donate gently worn clothes.
EMPLOY: Hire homeless people at your company. If you're not in a position to hire, ask your human resources manager whether there might be internship opportunities available.
MENTOR: Mentoring can provide valuable motivation and support. Having a positive role model can be very beneficial to a person's social development, confidence and self-esteem.
VOLUNTEER: Spend time at your local homeless shelter or community kitchen. Volunteer at times other than holidays: early mornings, evenings or weekends.
ORGANISE A DRIVE: Collect toiletries, socks, diapers/wipes, non-perishable food items and donate them to a local shelter.
CONTRIBUTE: Find a shelter that needs financial help to meet utility or food costs and commit to a set amount every month. If not money, contribute a bulk food item instead.
It would be easy for Sydney Homeless Connect co-founders Andrew Everingham and Peter Durie to be in a triumphant mood as they mark the charity's tenth anniversary.
They do not doubt that the commitment, generosity, trust and a job well done are worthy of celebration. But it's a double-edged sword.
They despair that homelessness is more significant in 2019 than it was in 2009 when Andrew came up with what Peter describes as his ambitious idea to launch the movement.
"I do look back on 10 years with a great amount of fondness," says Andrew. "I know we've done a lot of good and I know that we've helped a lot of people to get on the path out of homelessness. Unfortunately, we will need to continue doing it in the future."
Andrew was introduced to the Homeless Connect concept during a business trip to San Francisco. He knew he wanted to create something similar in Sydney. But it took about six months for the seed to grow into his big idea.
No stopping him
Once he decided he was going to do it, there was no stopping him.
Peter had put his hand up. The Lord Mayor of the City of Sydney, Clover Moore, was on board, and knowledgeable people, sponsors, friends and colleagues were enthusiastic.
The big question was when. "I remember telling people that we were going to run in the winter," says Andrew. "They said that was great timing as it would give a good 18 months to get things done."
There was disbelief all-round when he explained the launch would be winter that year, which was six months away.
"Why would we wait 18 months if we could get it done in six?"
Once the date was set, it took hold, though. Everyone rallied and made it happen.
Successful start
The first event was as successful as they could have hoped and provided a solid foundation for future growth.
"Our model hasn't changed in the 10 years," says Andrew.  "We are still 100 per cent not for profit and 100 per cent volunteer driven.
The big difference between then and now is size, with the core team remaining stable over the years. "We come from all walks of life. We have people from high corporate positions through to mums who just want to get in there and help.  Everyone puts in as much as everyone else," says Andrew.
"From the start, we certainly had great advisers who helped us to make sure we were making sound decisions in the best interests of the guests that were coming along on the day. We also had a lot of buy-in from the service providers and sponsors.  There was a great deal of support," says Andrew.
Despite the success, the team still look for ways to improve the guest experience. One example is the free Transport NSW travel cards. Another is a refinement to the meet and greet process for each guest.
Peter is still enthralled by what the team have achieved. "At Homeless Connect, a government department can fast-track a guest's assistance and deliver in one day what would typically take six months.
A lot of fun
"It's something big. It makes a difference. It's a lot of stress to make it happen but also a lot of fun. You get to the end of the day, and it's just a buzz. We have great outcomes.
"We have an outstanding brand after 10 years. We pay a lot of attention to that and keep on doing the right thing."
Andrew describes his personal reward as bottomless.
"I've met so many of the most fantastic people.  I have learnt an enormous amount about the way people treat each other.  I have learnt an enormous amount about some of the inequality that we are faced with.
"I've also learnt about the propensity for people to give.  People really want to do something to help, so they're willing to come along and spend the whole day just giving free hugs to people who don't get a hug very often," says Andrew.
"They are willing to come and serve food for people.  They're willing to connect, donate products or give employees time off to volunteer, and that is something that needs to be celebrated."
The tagline that Peter came up with sums it up, he says: "Sometimes it's good just to do something good."