Food is an essential part of Sydney Homeless Connect, and this year's guests will be treated to a gourmet high tea to celebrate the tenth anniversary of the event.
It's a busy day ahead for the 70 catering volunteers and catering leader Audrey Wynn, who has been putting the food offering together since the second year.
The team ensure that each guest receives engaging service as well as healthy food in the 500-seat fine-dining restaurant set up in the main Town Hall or in the informal café on Sydney Terrace.
The service starts even before the doors open, with each guest offered a bacon and egg roll on arrival outside.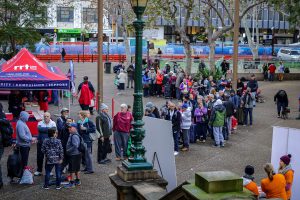 Audrey and her team meet for the first time in the morning. Through teamwork and sheer force of will they prepare and serve more than 3000 meals and 5000 espresso coffees during the day.
"We work out who can do what and separate into teams. Some people help with food preparation and others help with the service. Not everyone has experience, but we work together with one focus in mind, which is to ensure that our guests enjoy the day.
"It is daunting and it is a challenge. I get very nervous about four weeks out, but it all comes together."
Audrey chooses different themes every year and starts sourcing ingredient donations months ahead. Regardless of the effort she puts into the menu, she knows a firm favourite is likely to be the hot baked potato in a new pair of socks guests can take away with them for a warm evening meal.
This year, the wait staff will plate up a spread of finger sandwiches, quiches and mini-pies in front of each guest. These will be followed by a selection of desserts and cakes delivered to the table.
But there's always a treat in store for Audrey as well. "I love it when people say they come to Sydney Homeless Connect because of the food. I get a buzz out of that," she says.