DON'T BE LATE FOR A VERY IMPORTANT DATE!
There are a lot of volunteers.  To make your arrival as seamless as possible, start times are staggered for each team.  Read over the emails you have received to familiarise yourself with where you need to be at what time.  If you're feeling lost or need help, the core team members are the people wearing black hats and headsets.  Plan ahead.  Be on time.
GUESTS DON'T RSVP
It is estimated that on any given night, one in 200 Australians are homeless. We know that more than 3,000 guests are likely to arrive at the Town Hall, but there could be more.
IS THAT ALL YOU'RE WEARING?
Sydney Homeless Connect (SHC) supplies T-shirts for you on the day, but keep in mind it's pretty cold. Wear something warm underneath and comfortable shoes are a must. Oh, and that T-shirt:  we will need it back before you go.
YOU DO YOU
Some people hesitate to volunteer because they think they are missing some special skill.  Not true.  You don't have to specialise in anything to be a volunteer, you just have to be a kind and caring human. All you need is the capacity to have a conversation with someone, an open mind, a willingness to accept people as they are and a willingness to roll up your sleeves.
I'M OK, ARE YOU OK?
SHC is a big day.  You may see or hear things that are a bit overwhelming. Some people may feel unsettled, and that's totally ok.  If you find yourself struggling at all, definitely talk about it. We always ask teams to look out for each other and to get help from their volunteer managers if it all becomes too much.   And if you need a break at any point, just let someone know before you go.
BE YOURSELF
When it comes to talking to guests, there is no set list of what to say and what not to say. Be yourself.  Be kind.  Be compassionate. Be helpful.  Listening is the best way to know what our guests may need.
IT'S SAFE
You don't need to be concerned about safety. Town Hall Security and Patron Control Volunteers manage the crowds, and anyone wearing a headset and a black hat will be able to assist in any way.  Police and ambulance staff are close by as well, so we've got you covered. The volunteer bag check is located at check-in.  We keep an eye on it all day, but we do suggest you leave anything really valuable at home.
BUT FIRST, LET ME TAKE A SELFIE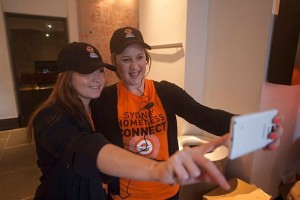 We are very happy for volunteers to take photos of themselves with their team and spread the love. But no pics of our guests please. They value their privacy.
MAKE CONNECTIONS
Volunteers are a diverse group of people.  You will find yourself working alongside people from all walks of life.  Some have done this before, some haven't.  Some first attended as guests of SHC and now give back by volunteering.  What we all share is our desire to make this happen.  So, don't be afraid to introduce yourself.  You may be surprised by the new connections you make.
HUGS FOR EVERYONE!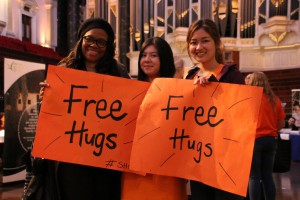 Hugs are awesome.  People love hugs. There are even scientific papers written about how good they are! SHC has a dedicated group of volunteers who give out free hugs every year.  In fact, some of them have been volunteering specifically as huggers for years.  Feel free to give and receive hugs at SHC if they are offered.  But always be respectful of our guests' boundaries.
ONWARDS AND UPWARDS
Doors open at 10am and close at 3pm sharp.  We know it can be hard to go home to a warm bed when others aren't so fortunate.  Try to focus on the positive outcomes that happen on the day and how small steps are helping.
WE ARE FAMILY
Everyone participates in SHC for their own reasons. Sometimes it's good just to do something good. Over the past 10 years, SHC has grown into a community of guests and volunteers who see each other as family.  Welcome to the family!
I'LL BE BACK
It's common to walk away from SHC feeling like we aren't doing enough; that we as a country need to be doing much bigger things to solve the problem. But there are plenty of ways you can help outside of SHC.  If you would like to do more, try contacting the Wayside Chapel or Volunteering NSW to see if you can help out.  And keep an eye on the SHC Facebook page and website!
364 DAYS TO GO
Registration for SHC 2020 opens in mid-May.  We'd love to see you again next year.