Brett McKinnon has been a hairdresser for over 30 years, but it took just seven hours of volunteering at Sydney Homeless Connect (SHC) for him to realise how profoundly empowering a haircut can be, for both the person giving the cut and the person receiving it.
Brett and the team at his Paddington salon have been volunteering at SHC for seven years, and he says it is the best team-building they do.
"Volunteering is part of who I am," he says.
Over the years, Brett has noticed that haircuts have become increasingly popular among the guests at SHC. And he will never forget the feeling last year when one of the organisers gave him a heads-up that the haircut queue was 100-people long.
This year there will be 26 hairdressers taking part, but there is always room for more, he says. "I've brought in a lot of my friends and they have colleagues that come in. There are some students as well."
Brett's commitment to community has inspired some of his clients to become involved as well.  They help wherever they can at SHC, from the cloak room to catering.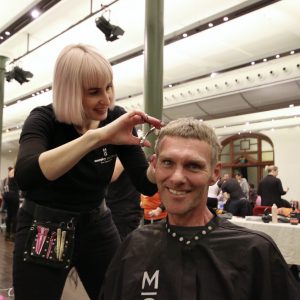 There is no real difference between the way the hairdressers engage with clients at the salon and the guests at SHC.
As each guest arrives, their hairdresser asks them about their style preferences and builds connection, he says.
"There will be people at SHC who will have their phones, they'll have pictures of a favourite haircut, or it could be a picture of a celebrity. It's no different to being in the salon."
But there are ways the guests SHC are different. Their time in the chair is precious, but just sitting down can take courage. "A lot of guests have had negative experiences or mental illness and you know it's difficult for them to connect," he says.
After seven years, Brett has his regulars. "I've been doing it for so long now they'll request me.  The sad part about that is that it's 12 months since I've seen them and nothing has changed, and that's heartbreaking."
However, the simple act of getting a haircut is one way the guests can exercise control in their life. It goes beyond their hair, says Brett. "It's about making them feel good, having someone touch them positively and having a conversation."
For anyone who has thought about volunteering, Brett says: "Just do it.  It's incredible". And it doesn't have to be at SHC, there are many opportunities every week of the year.
"We've been lucky and we want to share that luck," says Brett.